Practice founder Dr. Bernhard Hofer
When the practice was taken over, the staff consisted of the owner and one employee. Meanwhile we are three doctors and five employees. Nevertheless, the day is always too short and free dates are quickly allocated. In urgent cases, we always try to find a solution via the waiting list or unscheduled appointments. However, please understand that our possibilities are not unlimited.
Proctological practice and Pilonidal Sinus Center introduce themselves
Our specialists
Are you looking for a proctologist in Munich? With Dr. Bernhard Hofer, Dr. Klaus Bärtl and Dr. Susanne Schuster, three experienced specialists will take care of you. We have specialised exclusively in the treatment of the rectum and coccyx.
My name is Dr. Bernhard Hofer. I am a specialist in surgery, visceral surgery and proctology and decided in 2012 to set up my own practice after 20 years in the clinic. My motivation was and is to be able to offer the best possible treatment for coccyx fistulas and haemorrhoids. We are never satisfied with what we have achieved, but are constantly looking for ways to improve.
For example, I transferred the surgical strategy for minimally invasive thyroid surgery to surgery of the coccyx fistula and took over video endoscopy from arthroscopic joint surgery. We found particularly fine instruments among our colleagues in ENT and dentistry. Constant study of the specialist literature provides the necessary input for new ideas.
Despite our enthusiasm for progress, we never lose sight of proven techniques. In the treatment of chronic anal fissure and anal fistula, no new method has yet come close to conventional excision in terms of success rate. But even during these operations, lasers and magnifying glasses ensure improved precision.
Our surgeries take place in the practice and in the Iatros Clinic (outpatient surgery center). We no longer offer inpatient operations in the Diakonie Maxvorstadt in-patient clinic.
The friendly team of medical assistants of our practice
We always have an open ear for your questions and try, even with a full calendar, to offer an appointment.
from left to right: Antonietta Zabransky, Valdeta Bekjiri, Elita Duglica, Anja Pidde
Development of the practice for proctology in the Luitpoldblock
From the idea to the realization of a practice specializing in laser proctology and pilonidalsinus
2004

Initial experience with the gentle technique of coccyx fistula surgery at the Starnberg Clinic

2006

Recognition as a proctologist

Examination at the State Chamber of Physicians after further training with Prof. Th. Hager, founding member of the German Society of Coloproctology. Proctological consultation at the Klinikum Starnberg.

2008

Appointment as senior physician

Establishment of the proctology department at the Dachau Clinic.

2018

First laser operations on coccyx fistula and haemorrhoids

The Ceralas laser from biolitec with the applications FiLaC for anal fistulas and laser haemorrhoidoplasty (LHP) enriches the spectrum of treatment options. The idea of applying the FiLaC technique to the coccyx fistula also matured early on.

2013

Takeover of the vascular surgery practice of Dr. v. Liebe in Brienner Strasse 13 and reorientation towards proctology.

2015

Further specialization in the treatment of coccyx fistulas

Development of the website Pilonidalcenter.eu in order to publicize the practical focus "Pilonidal Sinus Center".

2016

Employment of Dr. Klaus Bärtl

Increasing numbers of patients make it necessary to enlarge the practice by another specialist's office. The experienced specialist Dr. Klaus Bärtl is the ideal candidate for this position.

2018

Employment Dr. Susanne Schuster

The practice continues to grow, Dr. Schuster strengthens the team.
Dr. Klaus Bärtl
Specialist in Visceral Surgery
Studied in Regensburg. Further training in Meiningen, Fürstenfeldbruck and Wolfratshausen. Trained paramedic and emergency physician.
darmsprechstunde.de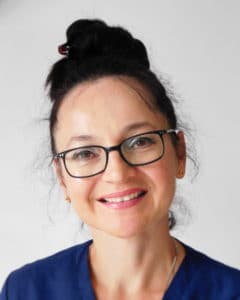 Dr. Susanne Schuster
Specialist in Visceral Surgery
Further training at the Klinikum Großhadern, Klinikum Augsburg and many years of experience as a specialist at the Schreiber - Klinik München.
darmsprechstunde.de
Antonietta Zabransky, MFA
PROCTOLOGICAL PRACTICE MUNICH & PILONIDAL SINUS CENTER
Dr. Bernhard Hofer, Specialist for Surgery, Visceral Surgery and Proctology
employed physicians: Dr. Klaus Bärtl, Dr. Susanne Schuster, surgical specialists
SPEAKING TIMES
MONDAY TO FRIDAY 9 - 13 O'CLOCK
MONDAY TO THURSDAY 14 - 18 O'CLOCK
AND ACCORDING TO AGREEMENT